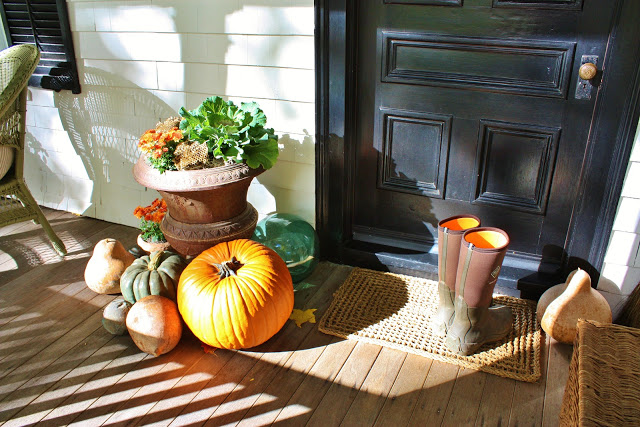 By Todd Russell
No matter your budget or style there are really simple ways to help welcome the cooler weather into our spaces. Just like we change our clothes from season to season, we should also switch up our spaces to reflect the cooler fall weather. It doesn't have to be complicated or expensive and you really don't need to do all that much. I have a couple of ways to show you how.
Change out your throw pillows, throws and in some cases your curtains in your main rooms like the living or dining rooms.
If you are lucky to have a neutral colored sofa these changes can be as easy as adding Fall themed pillows and heavier textured throws to the sofa. Others may want to think about adding a slipcover and switching out some store bought curtains. Think warm neutrals and seasonal themes for pillows and throws.
If you can't seem to find just what you are looking for sometimes I use a larger cloth seasonal table cloth as the fabric for these easy projects. One more thing to add is an area rug with texture and or pattern. You can layer your area rug over your existing carpet with one of my mantras on your mind. Either the rug is larger enough for all the furniture to fit on it or it is smaller so just fills the normal conversation area. However nothing in between. No half on half off is my rule.
Purchase some seasonal plants at the grocery store like mums. Place them in your entry way or over the fireplace on the mantel.
One of my favorite things to do this time of years is simply go outside and collect a few branches and leafs. Think of using pitchers, baskets or even mason jars to hold your finds in. Think of creating darker pallets.
Set bowls of seasonal fruits like clementines, apples and pears, all around the kitchen and the house.
Like I said a trip to the grocery store is all this really takes. Don't be shy. Load up your cart with fresh apples, pears, berries, and nuts. Even add a few mums to your bowl arrangement. Other ideas to bring the outside in. Bundle sticks and branches together and place them in vases or larger ceramic bowls. We can't forget the pinecones. They come in all shapes and sizes and can look lovely in a larger glass vase. Remember autumn décor doesn't need to cost a lot.
Create unique displays with decorative pumpkins or gourds and pine cones if you are able.
Remember use your natural resources and create warm and visually stunning displays. Consider combining candles with fruit, pumpkins and gourds. Think about using wooden boxes and crates to hold them and place them around your space. The warm glow of candle light makes all spaces feel comfortable and warm.
I like this next idea. Make your bedroom cozier by removing your crisp white sheets and comforters for cozier fabrics and warmer textures.
Beds are usually one of the easiest things in your home to change seasonally. Sheets are usually inexpensive and why not have a few sets on hand anyway to accompany the changing of the seasons. Maybe even flannel is what you might add for a warmer, cozier feel during the cooler days ahead. Toss on a few blankets, even faux fur throw to really welcome what's to come weather wise.
Don't forget the kitchen or dining room switch out plates and table linens.
Be sure to set your table with warmer colors. Add candles and fresh fruit, gourds or pumpkins in the autumnal hues. One of my favorite ideas is to spray paint your pumpkins or gourds silver or gold for a more formal look.
Bundle candles together on a tray in assorted sizes and heights.
One of the things to remember is in this case it is best use unscented and all the same color of candle to make this look work. Light them as the sun starts to set, which is getting earlier and earlier now. Candles really are the perfect accessories and can be switched up both color and scent and size to match the current season.
Get the fireplace ready for the colder weather.
If you are lucky to have one of these then now is the time to use it. Nothing is as welcoming on a cool crisp fall day as the glow and crackling of an inviting fireplace. A fireplace can pull the entire room together. It is one of the best accessories you can be lucky enough to have in your home.
I hope these ideas have inspired you to get ready for fall which is really a lovely time of the year. What will you do to usher in the cooler time of year?
Soon it will be easier to surround yourself in beautiful home décor.
Now you are able to shop my new home collection online at www.BlueDotHomeMarket.com
Design is everything.
EVERYTHING!
Todd
__________________________________________________________
About the Author: Todd Russell is a professional Interior Designer with over 20 years experience in helping couples create unique living spaces.
He can be found on his Facebook page Blue Dot Interiors. https://www.facebook.com/BlueDotID